2022 Christmas Float Route
Christmas Light switch on at East Beach Shops on Saturday 26th November.... Santa took a break from the North Pole to pay us a visit.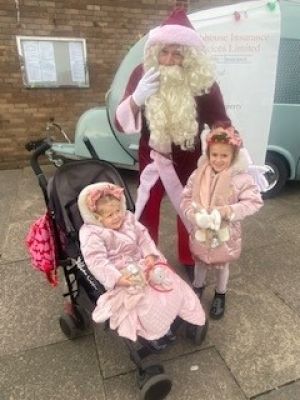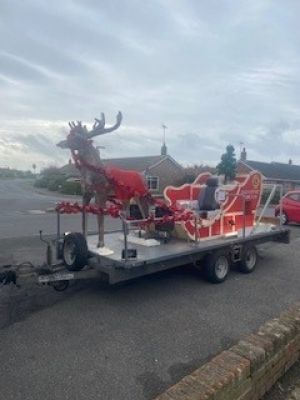 Santa Route for 2022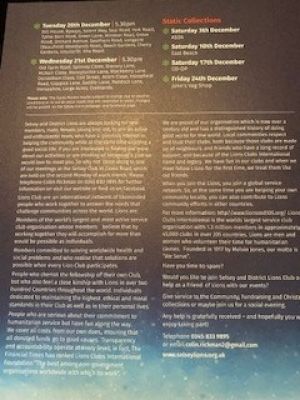 Christmas Carol Float
By far one of the best times to be a Lion is when we dust off our Christmas Carol float ready for late November when we tour the local area with Farther Christmas and his elf's bringing joy to young children who come out their Houses to give him a wave.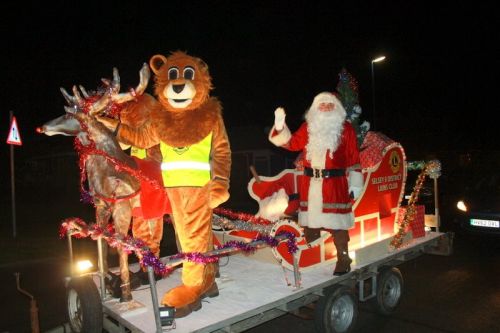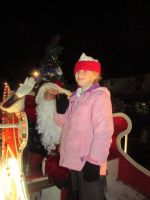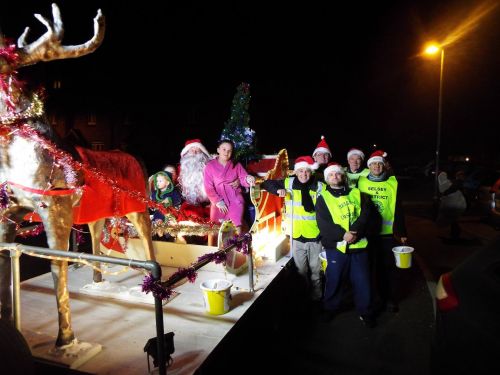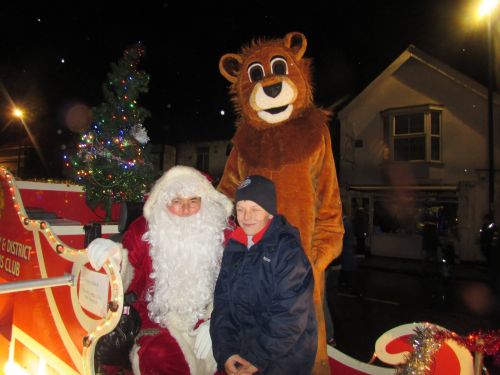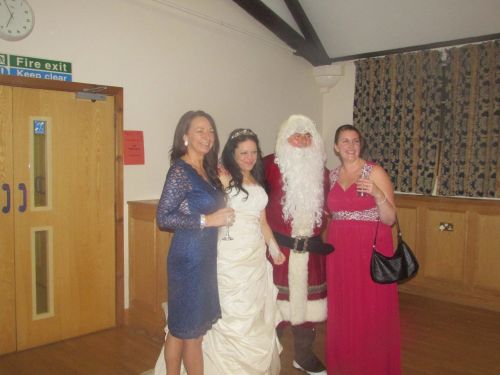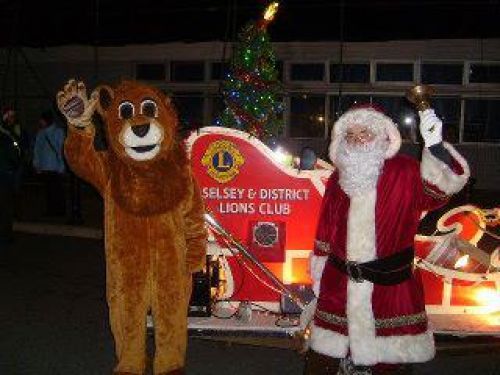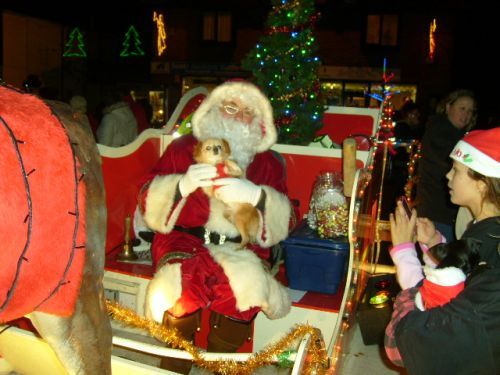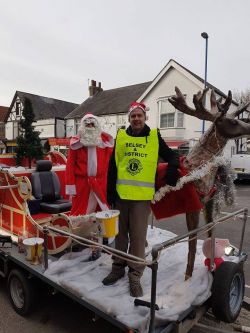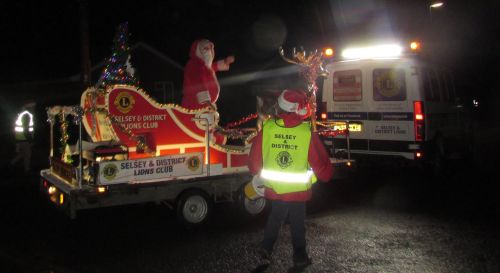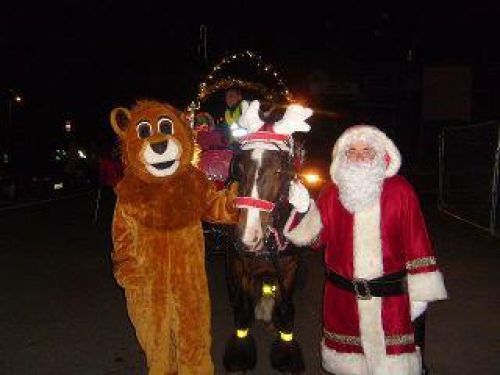 Hi Boys and Girls Mums and Dads SAnta will be on its way soon keep these days and dates. Looking forward to see you all


Selsey lion.docx
Selsey & District Lions Club
Christmas Carol Float Routes December 2021
Sun 5th 5.00pm Manor Road, Mountwood Road, Broomfield Road, Elm Tree Close (+cul-de-sacs), manor road. Grafton rd. (up to grove rd.) James Street, Chayle Gardens, Western Road
Monday 6th 5.30Mundham and Runcton area
Tuesday 7th: 5.30pm Beach Road, Marrisfield Place, Kingsway, Albion Road, Sunnymead Drive & Close.
Wednesday 8th 5.30pm Church Road, St. Peters Crescent, Wellington Gardens, Malthouse Road (+cul-de-sacs), High Street, East Street, North Road, Netherton Close.
Thursday 9th 5.30pm Merryfield Drive, Burlington Gardens, Tretawn Gardens, Constable Drive, Gainsborough Drive, Landseer Drive, Hannover Close, Lingfield Way, Littlefield Close.
Friday 10th 5.30pm Manor Farm Close, Chichester Road, Hunisett Close, Millington Drive, Fidler Close, Petts Close, Robinson Close,
Sunday 12th 5.00 pm Marine Drive, Broad View, Eastway/Bank, Fontwell Road, Gillway, Chichester way,
Tuesday 14th 5.00pm Hunston: Foxbridge Drive, St. Leodegars Way, Orchard Side, Westlands Road, Little Boultons. (For Safety Reasons there will be no collections on the B2145 main road)
Wednesday 15th :5.30pm Ursula Square & Avenue, Seal Road & Square, Marine Gardens, Hillfield Road; Bridge Way, Peachy Road, Green Lane, Meadowlands, Latham Road, Langton Close, High Street, Bridleway, Croft Way
Thursday 16th: 5.30pm, Grafton Road (from grove Road), Lifeboat Way, Coxswain Way, Wright Way, Barnes Close, Canadian Crescent, Pacific Way, Jones Square, Beacon Drive, Lawrence Close, Mixon Close, Sparshott Road, Pennycord Close.
Friday 17th: 5.30pm East beach Rd, Drift Rd, Solar Drive, Tranquillity way, Lunar Crescent, Orbit, Wheatfield Rd, Manor lane Gardens, Halley View, Jodrell Place
Sunday 19th
5.00pm Sidlesham area
Monday 20th:5.30pm West Street (+ cul-de-sacs), Bonnar Road, Clayton Road, Seagrove, Vincent Road, Coxes Road, Warner Road.
Tuesday 21st: 5.30pm, Bill House, Byways, Solent Way, Seal Road, York Road, Tythe Barn Road, Green Lane, Windsor Road, Grove Road, Orchard Avenue, Southern Road, Longacre (Beaufield), Woodlands Road, Beach Gardens, Cherry Gardens, Ursula / St. Itha Road
Wednesday 22nd: 5.30 pm Old Farm Road, Spinney Close, Granary Lane, Mc. Nair Close, Honeysuckle Lane, Blackberry Lane, Donaldson Close, Colt Street, Acorn Close, Horsefield Road, Coppice Lane, Saddle Lane, Paddock Lane, Horseshoe, Large Acres, Crablands.
Static Collections: Sat. 4th COOP Sat. 11th: EAST BEACH Sat, 18th ASDA, Friday 24th JOHN'S VEG SHOP